My biggest business regret is not starting my business on the side.
If I had to do it over again, I would have kept a stable job and use the paycheck to fund my business.
Why?
Because you can build a profitable business without quitting your job today. You just need a little guidance, time, and momentum.
With the cost of technology and communication nearing the zero mark, starting a new website or business can cost less than $100. More importantly, the distribution of the Internet can turn that small investment into millions of dollars.
The Hyphen-Generation
A recent study showed that recent college grads will go through at least 10 different job changes over the course of their careers. That's crazy.
Just 15-20 years ago, society would tell you to go to a good college, get a stable job, work hard, and save up for retirement. And maybe, just maybe, you'll be able to survive with the single income you generate from your job.
Let's face it. That's not the world we live in today.
We live in what's called the 'Hyphen-Generation' (the symbol '-').
We're no longer just an 'employee', 'freelancer', 'artist', or 'entrepreneur.'
No, no.
We're an 'entrepreneur' – (hyphen) 'blogger'. A 'digital marketer' – 'business owner' – 'podcaster'. A 'student' – 'Youtuber.'
To thrive in today's economy, you need to become more than just a one-faceted character.
That's where side hustles come in.
**Listen to how one of our previous guests, Rand Fishkin, turned his side hustle into a $35MM business**
How to Start a Side Hustle
There are 3 major obstacles you'll need to overcome in the beginning if you want to succeed over the long run.
What I've found is that most people don't know how to find an idea, don't have enough time, or give up too early. We're going to go through each of these and address them.
*If you just want to know my suggested business ideas, scroll down to the bottom*
1. Look at your bank statement (Idea)
If you have yet to find a business idea, or you've got too many to choose from, read on.
One of the most common patterns that successful businesses have is that they have some sort of advantage. When you're in the idea stage, the best place to start is figuring out where you have an informational advantage. 
What industry, service, or product do you know better than 80 to 90% of people?
A practical strategy I use is to look at where you're already spending your money. Take a look at your 3 recent bank statements.
Which product or service are you spending more money on than anything else? 
Starting a business in an industry where you are already an avid customer gives you a head start. Instead of trying to 'guess' who your potential customer is, what they would buy, and how they would react, you can simply answer that yourself.
When you can solve a problem for yourself, you'll often find others that have the same problem as you. This time, you can get paid for it.
2. Give up one thing (Time)
Yes, starting a side hustle will require your time. A big portion of it.
Most of us are experts at adding new tasks or projects to our life, but we're awful at removing the unnecessary. If you truly want to make this side hustle work, you're going to have to give up something.
Do a self-analysis and ask yourself: 'What's an activity you do on a regular basis that's not serving you?' Then either reduce or remove it.
It could be watching just one episode of your favorite show on Netflix instead of 5. Or skipping happy hour and using that time to work on your project.
It's not sexy. But it's necessary if you want it.
3. One small thing every day (Momentum)
When you're just getting started, your biggest threat is not the idea, the market, or your vision.
It's lack of momentum.
When there's no money coming in, no one paying attention to your website, and you're working on this part-time, you're the most vulnerable.
Not only do you need to make the most of your limited time, you have to do one small thing every damn day. I mean, every day.
It could be as small as choosing your business name (day one), registering your domain (day two), signing up for your website host (day three), and so on.
Look at your side hustle as a living organism that grows and expands as you nurture it, and slowly dies when you don't.
I promise that when you can take one small action every day for the first 60 days, you'll be amazed by the progress you've made. More importantly, the momentum you have created will keep you going, even when it feels like you can't.
3 Scaleable Business Ideas For Your Side Hustle
This wouldn't be a complete 'How to Start a Side Hustle' article without sharing business ideas that you can go out and pursue.
I've specifically selected the following business ideas because they're all:
Incredibly cheap and simple to start (no money down)
Low risk (no debt required, no major contracts)
Scaleable (you're not trading time for money)
Proven (people are already succeeding)
Without further ado, here they are.
1. Become a Real Estate Mogul (Airbnb)
Despite the numerous regulation issues that certain cities have faced, the rise of Airbnb has invented a whole new industry for hosts. The table below is a report of Airbnb hosts in New York City, where 6% of hosts who have units 3 or more, earned a collective $168 million from short-term rentals.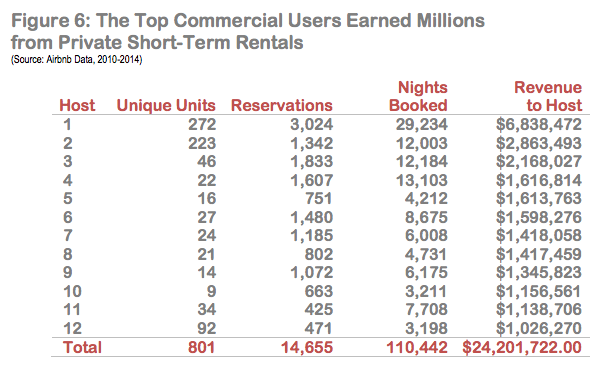 Some of you may be thinking this won't work for you because you don't have your own place.
Depending on the city or part of the world you live in, you don't need to.
I know several people personally who have used the following strategy to make multiple 6-figure incomes on the side, just by using Airbnb.
Step 1: Locate a house or apartment unit using a local classified ad (ideal if it's in metropolitan places like Toronto, New York, Los Angeles)
Step 2: Tell the landlord upfront (important) that you intend to Airbnb the place, and that you will act as the landlord (this mean less work for the landlord). 
Step 3 a): If they say yes, negotiate a 6 to 12-month contract that allows you to pay a lower price per month versus what you would pay on a short-term rental 
Step 3 b): If they say no, move on to the next place
Step 4: Pimp out the place with quality photos and rent it for a premium price on Airbnb
Example: On a 12-month contract in your city, you pay: $900/m ($30/day). You rent it out for $49/day ($1,470), and you generate a handsome profit of $570.
*Numbers may differ based on your location, vacancy rate, and special events in your city.
Not only is this a proven process to get you started, but it's also scalable. Meaning, you can leverage your success and become a full-time investor.
As the chart below shows, nearly 1/3 of hosts are building full-time businesses from using this strategy.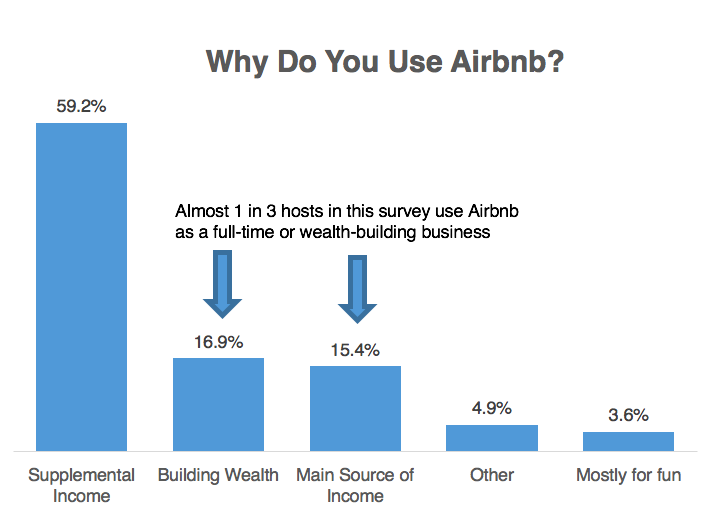 2. Productize Your Expertise (Information Products)
If you're a consultant, freelancer, or anyone that has a specialized skill set that you've achieved results with, this is for you.
We've been taught through the traditional education system that trading our time for money is the only option we have.
The reality is, there's only so many people you can help in 24 hours a day. This is why most highly specialized talents have fewer clients and charge a higher fee per client. But there's an alternative way.
You can productize your expertise via an online course, program, book, etc. and distribute it to someone across the world in seconds.
It does require a different mindset and skillset, such as how to market yourself online and the importance of online branding (since you're no longer just getting on the phone with a client). You have to approach selling your productized knowledge similar to any product you would sell online, such as a pair of shoes, sunglasses, or a book.
There's probably no one better to model than Tony Robbins, who's famous for productizing his knowledge into a series of audio programs, books, and courses. He reported that his companies combined to generate an annual revenue of $5B.
That's a 'B' ladies and gents.
3. Start an Online Store (Drop shipping)
Love the idea of selling your favorite products online, but don't want to deal with the headaches of inventory and manufacturing? Welcome to Drop shipping 101.
In short, drop shipping is a business model where you display a product from a supplier on your store, and charge a higher markup to your customers. When a customer makes a purchase on your store, your supplier will also take care of the shipping process for you. Pretty cool right?
The benefits of drop shipping are clear: it's incredibly cheap to start, easy to manage, and has the ability to scale. But there are downsides too. You'll earn much less per sale than you would if you were to manufacture your own product, and there's little control you have on product misplacement and branding.
Nevertheless, thousands of people around the world are generating multiple 6 to 7-figures using this model, and many of them started as a side hustle.
Here's a simplified, 3-step process of how you can start a drop shipping business:
Step 1: Set up a shop on Shopify, BigCommerce, WooCommerce (WordPress) 
Step 2: Use Oberlo to find products on Aliexpress or search '[You product] + dropshipping + [Your e-commerce platform]' on Google, and most times you can find a dropshipper.
Step 3: Sample your product(s), launch your site, and start promoting it!
To learn more about how Dropshipping works, check out this guide.
Your challenge
Congrats on making it to the end. Remember, the difference between information and knowledge is action. If you've been itching to start something on the side, you owe it to yourself to take action today. Now.
Start small by simply commenting below with the following (and I'll do my best to respond):
Your side hustle idea (business, project, etc.)
Your goal (make it measurable: ex. $1,000 in revenue)
Your deadline (within 30 to 60 days ideally to add time pressure)
I'm going to pick two people in the next 30 days to get on a 1-on-1 call with to give you my personal feedback on your idea and plan. Let's go!
Want to watch the video version of the episode?